Surrender to Step Out of Your Own Way Interview mp3
Find Out:
Why learning how to Surrender is such an important part of our spiritual evolution
Recognizing the Ego Mind from the Divine Mind
What complete Surrender feels like and how to achieve it
Enjoy a live group healing around Surrender
and lots more….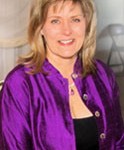 Rev. Kimberly Marooney, Ph.D. is an internationally recognized author and the founder of The Angel Ministry.com. Known as "The Elevator to God," she has helped hundreds of thousands of people worldwide have personal experiences of God's love that result in profound healing and greater self-awareness enhancing relationships and bringing priorities into sharper focus. A gifted mystic and spiritual psychologist, Kimberly works with healers, mystics, coaches and people who feel a deep yearning for a personal connection with God and who feel called to greater service.
Purchase the Recording of Surrender to Step Out of Your Own Way
For a limited time only $4.95 (Normally $25)
Website: http://www.KimberlyMarooney.com
Email: kimberly@KimberlyMarooney.com
Phone: 831-419-3200 (USA)