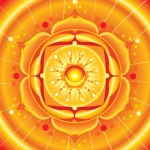 Our Sacral Chakra is centered just above the pubic bone and is the center for sexual energy, creativity and emotion. It is represented by the color orange and the element of water. Orange foods and orange crystals also support its function. It is where the union of the divine masculine and divine feminine energies combine. The nurturing feminine energy is the creative aspect and the dynamic masculine energy is the aspect that will make something happen or manifest it into being.
Bad relationships or sexual encounters and issues around not being able to attract abundance into your life are centered around the Sacral Chakra, which often becomes blocked from such experiences, thereby creating the pattern of these undesirable experiences repeating in your life. On a physical level our Sacral Chakra needs to be exercised regularly to keep the energies flowing, although a sedentary life in an office, in front of the computer or television is not conducive to this.
In yoga we were taught an easy way to get the energies of the Sacral Chakra moving again:
Simply stand with feet hip-distance apart and have ALL the movement coming from the hips and pelvis.
Slowly stick your tailbone (bottom) out as far as you can and rotate your hips to the extreme right
Stick your tailbone under as far as you can (pelvis comes forward) and rotate your hips to the extreme left
Repeat steps 2 & 3 for about 10 full rotations
Reverse and go back in the opposite direction for 10 rotations
Hmm, feels quite sensuous really….  Enjoy!